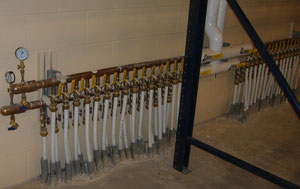 Designs:
Our latest design of a Geo-thermal warehouse and office complex is operational and providing comfortable environment for assembly workers, office staff and corporate offices!
Construction of our VRF (Variable Refrigerant Flow) System Design is up and running in School facility.
Radiant heating system provides energy conservation and employee comfort in auto dealership repair facility.
Energy reduction efforts successful with renovated central plant VFD pump speed control!
Studies/Investigations:
Investigation of fire loss proves cause is occupant error!
Study determines historic building is viable for renovation to draw additional business to business district.
Investigation of HVAC system loss insurance claim results in state police filing charges against property owner!
Energy audit identifies system improvements for energy savings.